What Happened to Best on the Web for Teachers?
I have no idea where they went. They're gone!
The site just dissappeared.
Though, I have to tell you, they have been missing in action for years. I've tried to contact them numerous times with no response.
I wanted to change the short descriptor of my link on their site. Since I no longer provide links and info for Lesson Plans, I felt the info was misleading, but they never responded to my requests. I was stuck.
It will take me a while to remove all the links on my pages (grumble, grumble).
Sorry for any confusion and consternation this may cause.
Contact me, David Watson, at david.flyingt@gmail.com
Andy has moved on to other pursuits - a demanding new day job, and, of course, he continues to protect the galaxies in our quadrant of the universe, as he has always done....
Questions for Andy should be sent David Watson at the email above. I dutifully do my best to answer, and when necessary, will forward the question on to mysterious Andy....
If these pages have been a help to you
please recommend them with Google+ below:

If these pages have been helpful
please recommend them with Google+ below:
We
NEVER
interrupt our content with ads.
The LINKS below are NOT paid ads.
They are part of my
ACh Lift
projects and interests: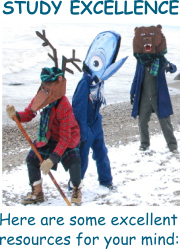 Visit my porch
Study and support excellence.
This is fun! Great music. Great lyrics!
The best band you probably haven't heard of.
At Latal music available here - free even
(but generosity is good for your karma)